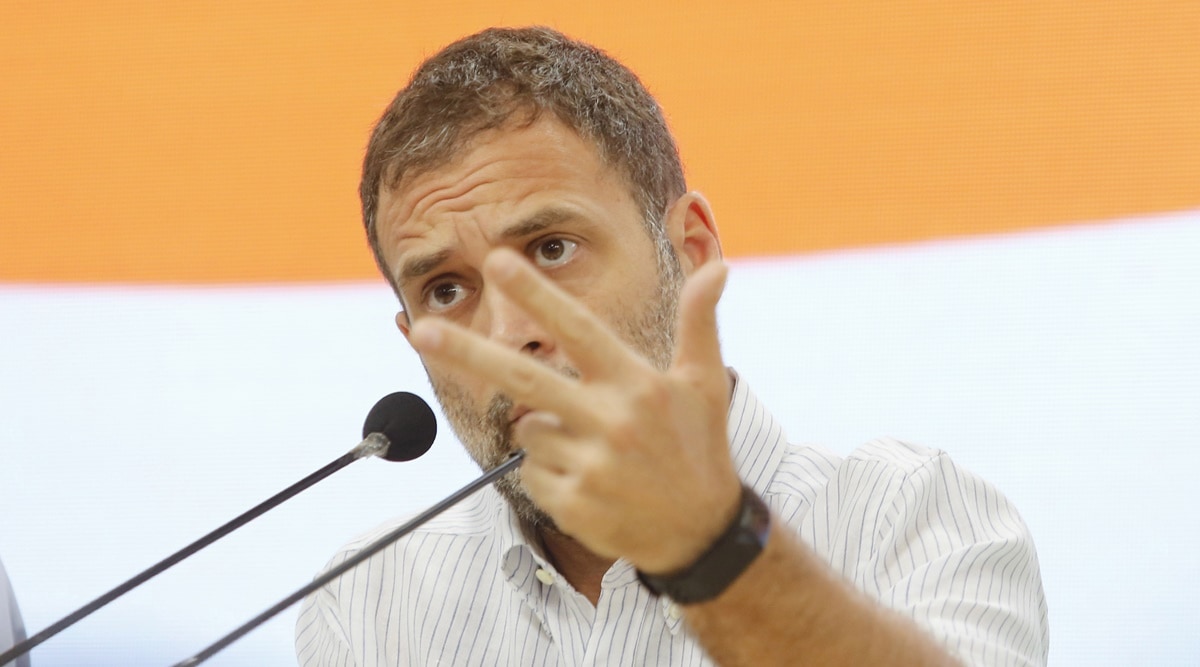 Congress leader Rahul Gandhi during a press conference in New Delhi. (Express photo by Anil Sharma)
INVOKING HINDU deities and imagery and linking them with some of the initiatives of the government, senior Congress leader Rahul Gandhi on Wednesday targeted the BJP and RSS, accusing them of using the Hindu religion for political benefit and doing "dalali" of the religion. He said the BJP claims itself to be a Hindu party but in reality they are fake Hindus.
For the second time in recent times, Gandhi sought to inject religious rhetoric into the Congress's political discourse. In Jammu last week, he had said the government's policies like demonetisation and GST have weakened the powers of Durga, Lakshmi and Saraswati.
At the foundation day of the party's women's wing, Gandhi picked up from where he had left off in Jammu. "When Modiji implemented domentisation… did he increase or weaken the power of Lakshmi? When he rolled out the farm laws, did he give or snatch from the farmers the force which helps them fulfil their goals (lakshya)… when GST was implemented, did he install or take away Laskhmi and Durga from the homes of the small shopkeepers," he asked.
"Wo apne aap ko Hindu party kehte hain. Aur poore desh main Lakshmi aur Durga par akraman karte hain. Ye jhoote Hindu hain. Ye Hindu dharm ka prayog karte hain, ye dharm ki dalali karte hain, magar ye Hindu nahin hain (They call themselves a Hindu party. And they attack Laskhmi and Durga…. They are fake Hindus. They use Hindu religion, they are brokers of religion, but they are not Hindus)," he said.
Responding, BJP national general secretary Arun Singh said: "Rahul Gandhi should not make these statements. He is totally disconnected from the ground. He has no information. That is the main problem."
© The Indian Express (P) Ltd