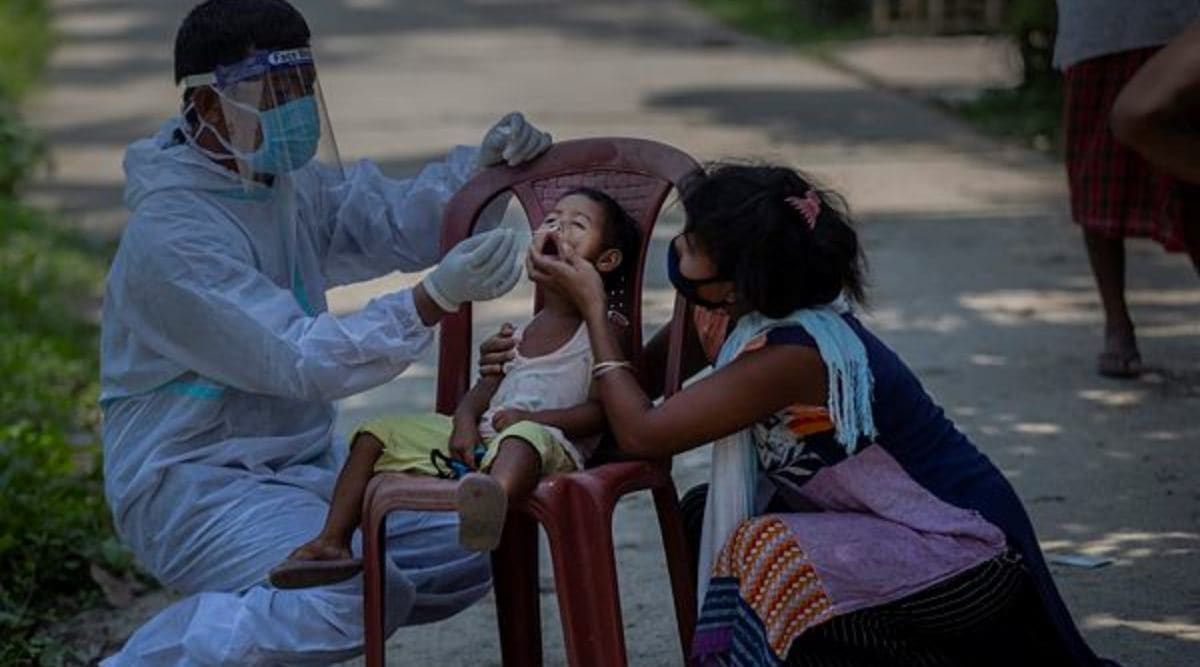 An Indian health worker in protective suit takes the swab of a child to test for COVID-19 in Burha Mayong village, Morigaon district of Assam, India | AP Photo
Coronavirus India Highlights: The Centre will provide a financial package of Rs 1,300 crore to the Northeastern states to fight the Covid-19 pandemic, Union Health Minister Mansukh Mandaviya announced on Tuesday. Reviewing the Covid-19 situation with health ministers of all the Northeastern states in Guwahati, Mandaviya said the fund is being provided to purchase medicines, enhance oxygen supply, increase beds — general, ICU and children — at local and district-level hospitals, PTI reported.
Earlier in the day, the Assam government relaxed the curfew timings in the state and allowed inter-district movement of passengers except to and from Kamrup Metropolitan district. The new guidelines, which also permits the opening of final year classes of technical education, will be effective from 5 am on Wednesday until further orders.
Also, as per the revised guidelines, all shops, commercial establishments, offices, banks, will be allowed to remain open till 6 pm and curfew will be clamped from 7 pm to 5 am. Hotels, resorts, bars, will also be allowed to remain open till 6 pm, though cinema halls will remain closed. Movement of goods carrying vehicles was already allowed and public transport between the districts remained suspended. The odd-even rule for plying of vehicles has been lifted.
Meanwhile, Union Health Ministry said that India administered over 88.13 lakh Covid-19 vaccine doses in the last 24 hours, the highest ever vaccination achieved in a single day. Cumulatively, 55,47,30,609 vaccine doses have been administered through 62,12,108 sessions across India, as per the provisional report till 7 am. India on Tuesday reported 25,166 new Covid-19 cases and 437 deaths in the last 24 hours, according to data from the Union Health Ministry.
Live Blog
India reports 25,166 new Covid-19 cases, 437 deaths in last 24 hours; Maharashtra's Delta Plus count reaches 76. Follow this space for the latest updates.
A senior citizen receives her first dose of Covid vaccine at the Fortis hospital in Vasant Kunj, New Delhi. (Express file photo by Tashi Tobgyal)
Meanwhile, ten more cases of Delta plus variant of SARS-CoV2 virus were identified across Maharashtra on Monday, taking the total count in the state to 76. Of the 10 new cases, six were identified in Kolhapur, three in Ratnagiri and one in Sindhudurg. The state has so far reported five deaths due to the variant.
Of the 76 persons detected with Delta Plus, 10 were fully vaccinated while 12 had received a single shot of the Covid-19 vaccine. Two persons had got Covaxin doses while the remaining had got the Covishield vaccine shot. While 39 patients are women, nine are children below the age of 18 years.