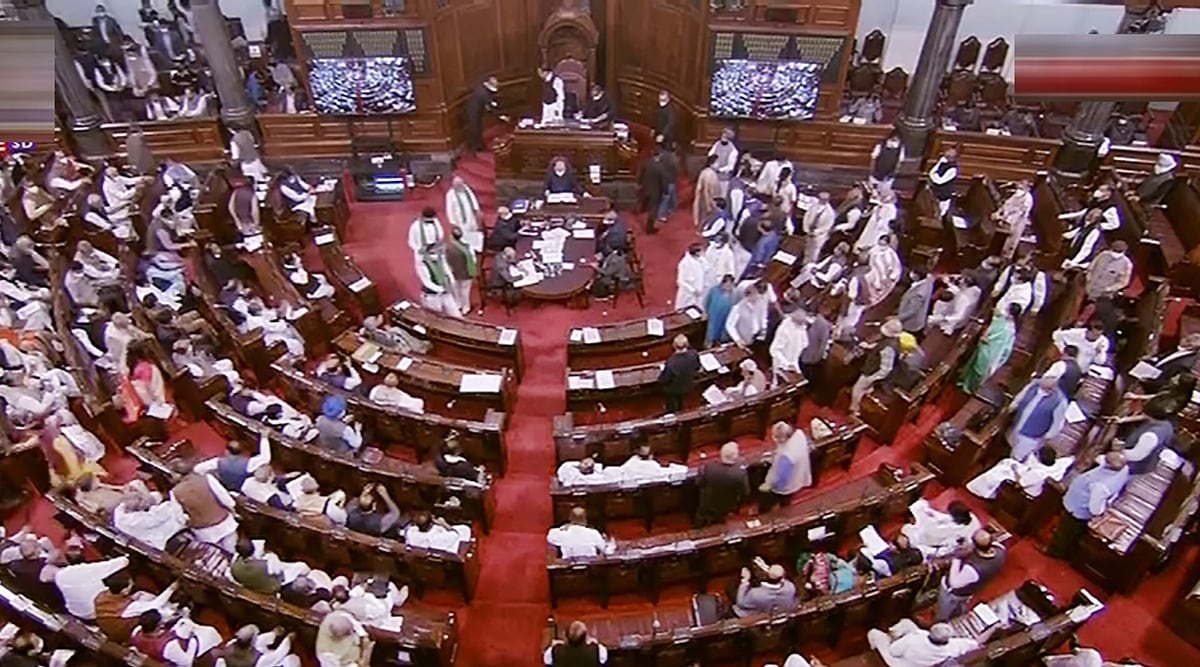 New Delhi: Opposition leaders stage a protest in Rajya Sabha during the Winter Session of Parliament, in New Delhi, Monday, Nov. 29, 2021. (PTI)
A Bill to repeal the three contentious agricultural laws, against which farmers have been protesting for over a year, was passed in both Houses of the Parliament without any discussion.
In Lok Sabha, the Opposition came to the Well of the House demanding a debate on the Bill and raised slogans and banners. Speaker Om Birla said he was ready to allow discussion on the Bill provided the protesting MPs go back to their seats and there is order in the House.
Earlier today, Prime Minister Narendra Modi, while speaking outside the Parliament ahead of the commencement of the Winter Session, said the government was ready to discuss and reply to queries about all issues. "The government is ready to debate any issue and answer any question. We should debate in Parliament and maintain the decorum of the proceedings," Modi said.
Live Blog
Parliament clears Bill to repeal farm laws; Parties seek legal guarantee on the MSP for farmers; TMC and YSRCP ask government not to disinvest the profit-making public sector companies.
Vice President and Rajya Sabha Chairman Venkaiah Naidu chairs a meeting of floor leaders of all parties, a day before the beginning of the Winter Session, on Sunday. (Photo: PTI)
Om Birla, the first-time Speaker, talks about the role of the Standing Committees and Opposition, addresses the absence of a deputy Speaker, reiterates the freedom of MPs to speak in House without fear of labels such as anti-national, and defends not telecasting protests inside Parliament.
"I hope there is enough discussion and debate in Parliament during the Winter Session. I urge all parties to participate in an orderly manner. I also hope Parliament sees more productivity this time," he said. The Speaker added: "Every government, previous or present, irrespective of which party it belongs to, brings in Bills and laws for the benefit of people. No government elected for a five-year term wants to bring in a law that will not help people. The ideologies or perspectives might be different, but in my opinion, every government is driven by this motive."